News Recap: Funding decisions at state level directly impact Michigan youth
Issues
Juvenile Justice
Criminal Justice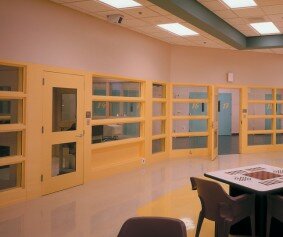 As the state budget process comes to a close, officials are deciding how best to treat youth who have entered the juvenile justice system. At the state level, representatives are making key budget decisions that will have a serious impact on the well-being of youth.
State officials are on board with keeping the W.J. Maxey Boys Training School in Green Oak Township up and running. This has changed from their original proposition:
"State House leaders originally proposed closing the Maxey facility — the most expensive juvenile center in Michigan — for the third time since 2012."
Maxey currently houses youth and is considered the go-to facility for Michigan's highest-security youth in the system. The other two juvenile training centers are Shawono Center in Grayling, also for males ages 12 to 21, and Bay Pines Center in Escanaba for males and females ages 12 to 20.
"All kids have a good heart, just sometimes they come from some pretty rough backgrounds. No kid is born bad, in my opinion. They just haven't been experienced to some of the positives in life," said Green Oak Township Supervisor Mark St. Charles, "This facility can help them with that."
State representatives also approved $1.25 million for the In-Home Community Care Grant. Juxtaposed to lock-up facilitates, the In-Home Community Care Grant aims to deter youth from being incarcerated by offering rehabilitative and restorative programs in local communities.
On the local level, La Porte County Circuit Court Judge Thomas Alevizos wants to give youth more options when they enter the juvenile justice system.
The process of handling juveniles in the existing criminal justice system is like limiting yourself to two gears of a 10 speed bike, said La Porte County Circuit Court Judge Thomas Alevizos.

Some roads might be smooth, some might be bumpy, but many are in-between, and your only options are either doing very little, or sending the child to the juvenile services center.
Officials such as Alevizos are seeing the benefits of local programming, as opposed to locking up kids in the system.
Alevizos said the purpose of the program is to reduce recidivism, reduce the number of children in the juvenile center, and to reduce the disproportionate contact minorities have with the criminal justice system.

"Now the trick is to have many options available for any individual patch of road they are on," he said. "We want to use the best gear to navigate them through the individual terrains of their lives."
You can learn more about community programming here.

Follow @JusticeinMI
Posted by MCCD on Monday, June 23rd, 2014 @ 10:53AM
Categories: Michigan Council on Crime and Delinquency