Michigan Approves $1.25 million for In-Home Care Community Grant
Issues
Juvenile Justice
Criminal Justice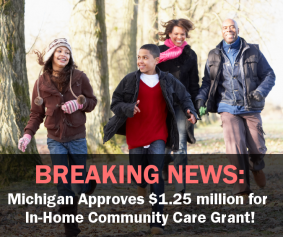 We are thrilled to report that both the Michigan House and Senate have approved a total $1.25 million to the In-Home Care Community Grant!
The In-Home Community Care Grant provides funding for community-based programming for rural counties, which has proven to be cheaper and more effective than incarcerating kids.
Established by the Legislature in 2013 as a pilot project, the funding supports new treatment programs, mentoring options and family therapies that kids can attend while still living at home.This is the second consecutive year that Michigan has funded this program. Counties that applied for the grant in 2013 have only just received their funding and their projects are in their very early stages of programming.
We are thankful the legislature has given us the opportunity to demonstrate the value of community programming and we hope we can continue to expand grant so that urban counties can also have access to this funding.
Read more about why this grant is important
Check out the full Department of Human Services budget here
Tweet
Follow @JusticeinMI
Posted by MCCD on Thursday, June 12th, 2014 @ 10:48AM
Categories: In-Home Care Incentive