Mass incarceration and privatization: Where does Michigan stand?
Issues
Juvenile Justice
Criminal Justice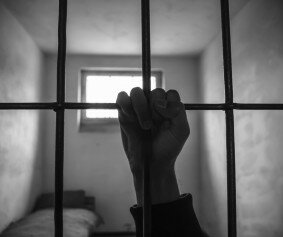 The United States is in a severe state of mass incarceration. According to the 2013 accounting by the Bureau of Justice Statistics, our country houses over 1.5 million people in state or federal prisons and 700,000 in jails. This population has grown exponentially in the past few decades. 2013 is the first time in four years where incarceration rates have gone up; however, when looking over the past thirty years, we increased our prison and jail populations by about 500 percent.
Internationally, these numbers are astronomical. The U.S. houses 25 percent of the world's prisoners and only 5 percent of the total population—a disparity greater than any other country in the world.
Unsurprisingly, locking up people by the millions has produced likely irrevocable harms to generations of Americans on cultural, social, and economical levels. Undeniable research shows incarceration linked directly to increasing the gap between the wealthy and poor, continuing the cycle of disempowering African Americans and other Americans of color, and costing our country billions of dollars each year.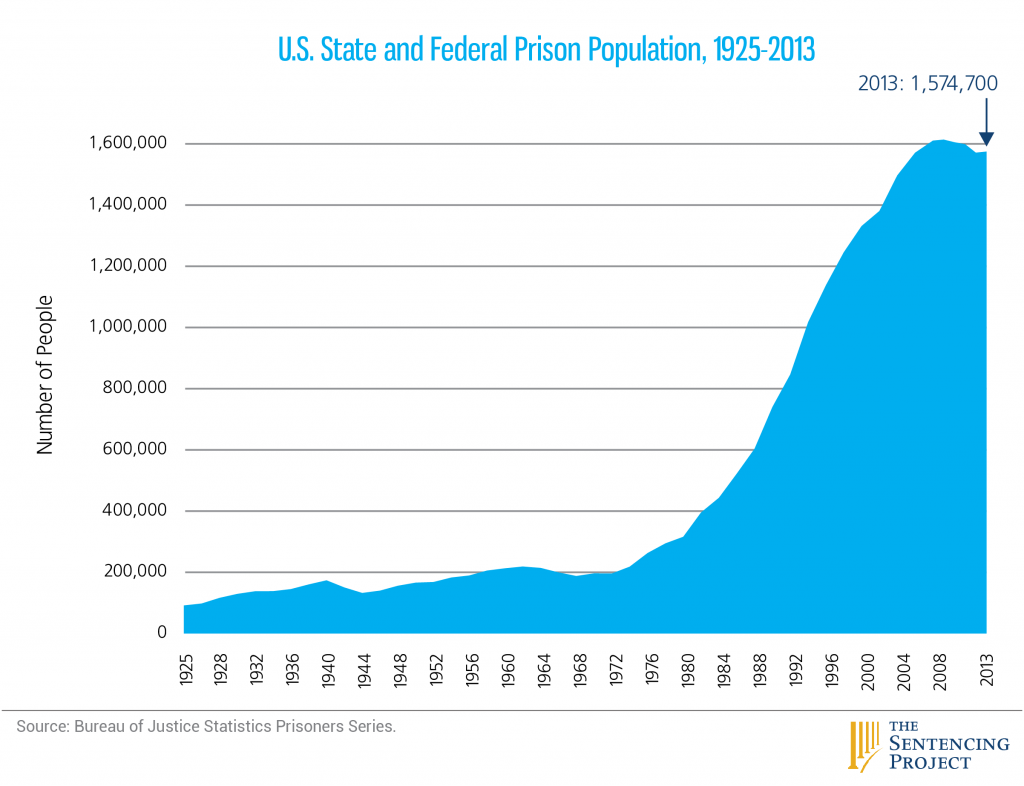 Mass Incarceration Leads to Mass Privatization
Coinciding with the spike in prison population, the emergence of privatization in the prison system has become something hard to ignore. In the late 1980s and through the 1990s, many states partially or completely privatized their prisons systems including services like management of entire prison facilities or parceling out pieces of a system like food, transportation, or communication services. Citing reduced operation and labor costs, states saw private outsourcing as a solution to save money as their prison populations exploded.
By the end of 2013, 7 percent of the total U.S. state prison population and 19 percent of the federal prison population is housed in a privately-run facility. While not a huge percentage, this number has steadily increased. In 2003, about only 5 percent of the total population was housed in private prisons.
While arguments can certainly be made for the cheaper and possibly more efficient outcomes of using private prison contractors, concerns of public safety, transparency, union-busting and overall effectiveness have arisen in many states.
Additionally, it is no surprise that privately contracted prisons rely upon high rates of incarceration and strict sentencing practices in order to stay in business. For example, in its 2010 annual report, the Corrections Corporation of America (one of the two largest private prison operators in the U.S.—the other being the GEO Group) stated quite plainly that "the demand for our facilities and services could be adversely affected by . . . leniency in conviction or parole standards and sentencing practices . . . ."
To further ensure profits, contracts are often written to include incredibly high occupancy rates. Occupancy guarantee clauses in private prison contracts can range between 80% and 100%, with 90% as the most frequent occupancy guarantee requirement. Arizona, Louisiana, Oklahoma and Virginia are locked in contracts with the highest occupancy guarantee requirements, with all quotas requiring between 95% and 100% occupancy.
Privatization in Michigan's Corrections System
Michigan fortunately has no privately run prison facilities. Nonetheless, the state retains a checkered past with its use of private contractors. The state shut down its only private prison in Baldwin, MI (also known as Michigan's "punk prison") in 2005 following a series of audits and investigations that found high levels of assault, frequent staff vacancies and operating costs that exceeded those in comparable state prisons. The former owners of the facility were the GEO Group, the nation's second-largest for-profit prison operator. They have continually boosted lobbying efforts in Michigan over the last five years, but fortunately to no avail.
While Michigan has rid of privately-operated prisons, it still maintains partial privatization over its food and communication services. Over the last few months, Aramark, Michigan's state prison food contractor has been caught up in a wide array of debacles. News outlets across the state have reported about maggots in cafeteria food, workers committing sexual acts with inmates, and an alleged "hit" that was arranged by Aramark workers on inmates—all examples of privatization gone wrong.
Where do we go from here?
There is a lot wrong with the United States prison system. The good and (mostly) bad of privatizing correction services is only one piece of the much larger puzzle.To blame it only on one factor would be to miss the big picture. Michigan is very limited in its use of privatization and it appears measures will be in place to reign in many of Aramark's abuses. Regardless, privatization of our prison system on all levels has become a disturbing trend that needs to be examined.
But what is clear is that deincarceration polices are the only real solutions to lowering prison population. Policies that divert people from the prison system, that reduce unnecessarily lengthy prison sentences, and that reintegrate returning citizens via prisoner reentry, are the long term solutions that we need to invest in.
Hopefully the lessons of the Baldwin and Aramark scandals will refocus Michigan leaders towards deincarceration policies that will both save us money, reduce the prison population, and address deeper causes of mass incarceration—not just those quick fixes like privatization .
Learn more about Mass Incarceration in America & Michigan
After spending more money on prisons than higher education, Michigan gets serious about high cost of corrections
US Department of Justice: Prisoners in 2013
Land of the free? US has 25 percent of US prison population
NY Times: End mass incarceration now
Learn more about Privatization of the Prison System
ACLU: Private Prisons
6 shocking revelations about how private prisons make money
Michigan Private Prisons Law Could Reopen Facility With Checkered Past
Department of State: Election lobbying records for the GEO Group
Michigan Department of Corrections: Prison Services
Michigan fines Aramark $200,000 more for poor prison food service
Investigation, Lawsuit Expose Barbaric Conditions at For-Profit Youth Prison in Mississippi
Pennsylvania rocked by 'jailing kids for cash' scandal
Niagara Health System cuts ties with Aramark, U.S. firm that managed housekeeping.
Follow @JusticeinMI
Posted by MCCD on Friday, October 17th, 2014 @ 10:45AM
Categories: In the News, Mass Incarceration, Michigan Council on Crime and Delinquency, Prisoner Reentry, Sentencing and Parole Reform