What does earth day mean for prisons?
Issues
Juvenile Justice
Criminal Justice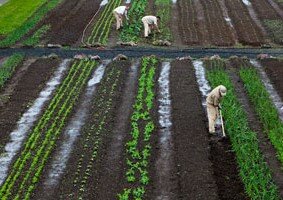 Every year in April we celebrate Earth Day, the holiday which literally celebrates the one thing all of humanity has in common: Our big, life-filled space rock. According to the Earth Day Network, "over 1 billion people participate in Earth Day activities each year, making it the largest civic observance in the world." Despite this, there is a not a paid day off and many simply ignore its passing as any average day. For others, it's a time to plant trees, celebrate, and discuss new ways to preserve our global environment.
Then we have prison communities, where residents spend a majority of their time indoors in an enclosed space, separated from nature. In the United States, over 2 million of the population is incarcerated every year. What does Earth Day mean for them? Should they have the opportunity to still enjoy the a connection with the vessel which supports us all?
For some corrections facilities, the answer is a clear yes. Across the United States, prisons are piloting "green programs" allowing residents to connect with nature and work to reduce their environmental footprint. According to the Vera Institute, last year Ohio's Marion Correctional Institution provides opportunities for residents to connect with nature and work to reduce their environmental footprint.
The Vera Institute's Leah Morgan filled us in what what the day entailed:
Their daylong event featured inmate-led demonstrations of the solar energy, wind energy, recycling, aquaponics, gardening, and water conservation techniques utilized at MCI, as well as a screening of The Story of Stuff, a documentary about the lifecycle of material goods. We also learned about the history of Earth Day, and the history of green initiatives at MCI, which started years ago with community gardens reserved for long-term offenders as a way to improve their quality of life. And for audience participation, the 150 attendees were divided into teams and played an intense game of "Green Jeopardy," with the winning team correctly answering the final question, "What is the amount of waste, in tons, that MCI Recycling Program diverted from landfills last year?" (Answer: 464).

The guest speakers from outside MCI were asked to talk about what going green means to their communities. A representative from the City of Columbus shared information on a number of initiatives coming from the Mayor's Green Team, including the voluntary GreenSpot program. The Ohio State University's Sustainability Department explained how important community partnerships, including one with the Ohio Department of Rehabilitation and Correction (ODRC), are to the success of their Zero Waste initiatives. And since Vera's Ohio Green Prison Project affords me the opportunity to visit correctional facilities across the state and assist in their green initiatives, I was asked to share about the impressive work going on in other Ohio prisons—stay tuned for those highlights next week on Vera's blog.

Attentive and engaged all day, the audience was clearly inspired to learn more about their immediate and larger environments. At the end, I congratulated a number of the inmate organizers for putting together such successful event. These men are humble, ambitious, and passionate—their response: "Eh, I guess. Thanks, Ms. Morgan. But just wait 'til next year—we're going to find a bigger space and have 600 people in the audience!"
What are viable strategies for cutting costs while protecting the public's safety? You can learn more about efforts to green prisons in the National Institute of Corrections Report, The Greening of Corrections: Creating a Sustainable System.
Follow @JusticeinMI
Posted by MCCD on Tuesday, April 22nd, 2014 @ 10:40AM
Categories: Blog Features, In the News, Michigan Council on Crime and Delinquency