What does Michigan's Budget have in store? Our Analysis
Issues
Juvenile Justice
Criminal Justice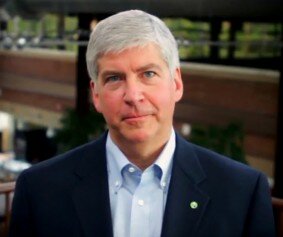 Recommendation for Fiscal Year 2015
Earlier this month, Gov. Rick Snyder released his Executive Budget Recommendations for fiscal year 2015. During the Governor's tenure, his budgets have been fiscally conservative, focusing on efficient and effective ways to reinvent Michigan as the "Comeback State."
This year, as the "Comeback Continues," things look slightly different; just in time for the beginning of the 2014 election year Governor Snyder has announced a budget surplus. There are proposals for new programs and funding increases across all state agencies in an attempt to restore some of the stark budget cuts of recent years.
About 75 percent of the proposed budget is spent on education or health and human services and there are notable recommendations to increase funding for individual tax credits, schools, cities, community health, and public safety. Additionally, increases in mental health services and the ability to draw down additional Federal funding due to the Medicaid expansion, The Healthy Michigan Plan, set common themes throughout the budget.
You can download a PDF report of our analysis of the budget here, or continue reading.
MCCD's Budget Priorities
The Michigan Council on Crime and Delinquency (MCCD) is committed to improving the effectiveness of policies and systems that address the reduction of crime and delinquency. We understand that there is a wide spectrum of interconnected issues impacting public safety, beginning with preventative services for youth and families to supporting older adults who are reentering society after incarceration. With this continuum in mind, our work is focused on five issues:
Community-Based Crime Prevention Strategies
Equal Access to Justice
Expanding Alternatives to Detention and Incarceration
Safe and Effective Treatment
Re-Entry and Reparation Strategies
The following includes an overview of the Governor's recommended expenses affecting each of MCCD's priority focus areas.
Community-Based Crime Prevention Strategies
Child Welfare
Expansion of Michigan Home Visitation Initiative – $2.5 million: Under the Department of Community Health (DCH), the governor proposes to expand Home Visitation Programs to rural Michigan for expecting mothers and families with children younger than 5 years old who are at-risk for poor birth or health outcomes. Of this funding, the budget calls for not less than $500,000 to be set aside for evidence-based programs like the Nurse-Family Partnership Program.
Family Preservation and Prevention Services – approximately $46.5 million: The governor is continuing funding for Strong Families/Safe Children ($12.35 mil­lion), Family Reunification ($3.98 million), Families First program ($16.9 million), Child Protection and Permanency program ($12.9 million), and other family preservation and prevention services programs ($2.5 million).
Pathways to Potential – $20 million: Pathways to Potential is the Department of Human Services' (DHS) new service model that promotes community engagement to improve student learning, create stronger families and support healthier communities. By providing DHS caseworkers in schools, DHS and partner state agencies hope to remove barriers to educational and health care services and increase school attendance, student safety, and parental self-sufficiency. This additional funding will help expand the program by placing DHS workers outside of school and in hospitals, community mental health agencies and prisons for re-entry assistance.
Education & Career Readiness
Preschool – $239.3 million total funding: This increase of funding allows an additional 16,000 half-day placements of preschool children and keeps in line with Governor Snyder's promise to increase preschool funding by $130 over two years.
Office of Great Start – $65million increase: The governor proposes an increase of $65 million to the Great Start Program, which provides preschool education for at-risk four-year-olds. This makes the total appropriation for the Office of Great Start $187 million.
At-Risk School Programs – $309 million: These programs aim to help students who are falling behind in school due to proficiency or absenteeism. The governor recommends the pro­grams focus on increasing reading ability, graduation rates and career and college readiness.
College and Career Readiness – $1.75 million: This is incentive funding for school districts that support dual enrollment of high school youth in college courses. Additionally, $250,000 will be set aside for low-income students to pay for advance placement testing.
Adult Education – $22 million: The funding is to be dispersed among the ten prosperity regions in the state plans to reward providers for successful outcomes.
Mental Health
Mental Health and Wellness Commission – $15.6 million total funding: Strengthening the budget for mental health services was a large part of the governor's DCH budget. The budget supports the findings of Lt. Gov. Brian Calley's Mental Health and Wellness Commission to integrate a system of mental health services that are coordinated, accessible, and fully staffed. The Commission recommends changes that affect many state agencies, including DCH, DHS, Corrections, Department of Education, Military and Veterans Affairs, and Housing.
Equal Access to Justice
Public Defense
Indigent Defense Advisory Commission – $1 million: The governor recommends funding for the recently established 16-person Michigan Indigent Defense Commission, who is responsible for overseeing standards of local indigent defense systems.
State Appellate Defender Office – $350,000: This funding is expected to replace expiring federal funding so that SADO can continue to represent 25 percent of indigent appellate defense cases.
Court Innovation
Drug Treatment Courts – $11 million: This funding will maintain the existing 84 drug treatment courts in Michigan. There are various types of drug courts including adult drug courts, DWI courts, juvenile drug courts, family dependency courts, and tribal healing-to-wellness courts.
Mental Health Courts – $4.1 million: There are currently 16 mental health courts (3 juvenile and 13 adult) in Michigan funded by the Mental Health Court Grant Program, a joint effort between The State Court Administration Office and the Department of Community Health. While these courts are proven to greatly reduce recidivism, this proposed funding is intended to sustain only nine of those existing courts.
Trial Court Performance Innovation Fund – $1 million: A one-time funding initiative, this Fund will provide start-up money for new trial court operations that increase the effectiveness and efficiency of their operations.
Alternatives to Detention & Incarceration
Adult Corrections
Probation and Parole - $310 million total funding: While the total proposed Department of Corrections budget is up by about $50 million, the funding for probation and parole is down this year about 6 percent, or almost $20million dollars.
Mental health jail diversion – $3.4 million increase: Following the recommendations of the Mental Health and Wellness Commission, this funding is meant to enhance psychiatry, case management and group therapy treatments for those at-risk of jail placement. It will also cover additional in-jail treatment and data collection and analysis.
Juvenile Justice
Child Care Fund – $178 million: The Child Care Fund (CCF) is the main source of funding for child welfare and juvenile justice services, including both community-based and residential treatment. The CCF is a 50% matching program with county funding, totaling the whole Fund at approximately $354 million.
In-Home Community Care Grants - $1 million: This grant provides on-going funding outside of the Child Care Fund to rural counties who are starting new or enhancing existing community-based programs for juvenile justice youth.
Safe and Effective Correctional & Residential Treatment
Adult Corrections
Prison Operations – $1.6 billion total funding: About 80 percent of the entire Corrections budget is for the operation of Michigan's 32 prison facilities. This budget estimates a population based on the 2013 number of about 43,700 incarcerated individuals. The 2013 population total is slightly higher than last year, but the Department of Corrections sees this as a stable number based on the past three years.
Planning for Renovation of Robert G. Cotton Correctional Facility: Despite lower numbers in the prison population, the elderly population has grown by 46 percent. The governor proposes using capital outlay funds to plan for refurbishment of Cotton Correctional Facility to house the elderly and medically fragile while in prison.
Juvenile Justice
Juvenile Justice Education Programs – $11.7 million: $2.2 million is set aside for youth under DHS supervision, a $28,000 increase. Additionally, $8 million is set aside for court-wards and $1.5 million for the Michigan Youth ChallENge Academy.
Performance-Based Funding Initiative Implementation – $1.3 million: This brand new project, housed at the Department of Human Services, is expected to replace per diem rates with payments to child caring institutions based upon performance outcomes. While the performance-based funding initiative is for children in the child welfare system, it does include those youth who are considered dual wards, or in both the juvenile justice and child welfare systems.
Re-Entry & Reparation Strategies
Adult Re-Entry
Department of Corrections (MDOC) Re-Entry – 30.5 million total funding: This year continues the on-going deterioration of reentry services for adults leaving prison. The total $30.5 million includes $13.7 million for local reentry service providers and $11.1 million for MDOC reentry programs. Additional funding from the Department of Human Services' Pathways to Potential program is expected for re-entry work, as the program is trying to expand by placing DHS workers into other facilities like prisons.
Enhancement of Prison Education Programs – $4.3million: This proposed funding is expected to assist parolees with vocational services and workforce readiness. Additionally, the spending will cover employment counselors who are responsible for working with potential employers and overseeing parolee job training. While not completely clear, this new funding appears to be linked to Michigan's involvement with the Vera Institute of Justice's Pathways from Prison to Postsecondary Education Project.
Jail Mental Health Transition Pilot Program – $1 million: Taken from Mental Health Diversion Council recommendations, this pilot program is expected to assist those individuals with mental health needs who are reentering the community from jail, including post-booking and outpatient services. Additionally, there is $200,000 set aside to track the effectiveness of this program.
Youth Re-Entry
Juvenile Justice Re-Entry Program – $200,000 increase: The Department of Human Services will receive an increase to expand their re-entry services for youth housed in the three public juvenile facilities.
Repairing Harm
Crime Victims' Rights – additional $1 million in grant funding: The budget includes an additional $1 million for the Crime Victims' Rights grants, which are overseen in local prosecutor offices. With the additional funding, the grant fund totals $16.8 million.
Posted by MCCD on Tuesday, February 18th, 2014 @ 10:31AM
Categories: In the News, Michigan Council on Crime and Delinquency
Tags: Community Solutions, crime, justice reform, justice standards, justice system, juvenile justice, juvenile justice system, Michigan, Michigan's budget, United States