Legislative Alert: Please Help Us Stop Juvenile Life Without Parole bills
Issues
Juvenile Justice
Criminal Justice
Get Involved

DONATE to MCCD
Donate to the Michigan Council on Crime and Delinquency.
DONATE to MCCD

JOIN the MCCD
Help power the MCCD.

Become a Volunteer
Help young people in trouble in Michigan.
Become a Volunteer
Attend an Event
Attend an event and get involved with juvenile justice.
Attend an Event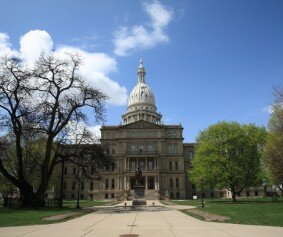 The Juvenile Life Without Parole bills — SB 319, 318 and HB 4808 — are all up for a vote in the House this week and there will be no committee hearings or public comments allowed. Please contact your Michigan legislators today and urge them to note NO on these bills, which:
Still allows life without parole for those under 18 as long as specific mitigating and aggravating factors are considered during the hearing.
Establishes a term of 25-40 years before parole

if

a prosecutor does not seek a life sentence without the possibility of parole.
Does not apply retroactively to those persons currently imprisoned for JLWOP.
Here is a sample script:
"I am calling as a [CONSTITUENT] or [CONCERNED VOTER] to urge the [REPRESENTATIVE] or [SENATOR] NOT to support HB4808, SB318 or SB319. The bills do not effectively address retroactivity so that those serving these harsh, mandatory sentences for crimes they committed before age 18 will not have an opportunity for meaningful review. The U.S. Supreme Court has already ruled that this sentence is constitutionally cruel and unusual."
"In just a few months the Michigan Supreme Court will make a decision on three cases dealing with retroactivity. Please let the courts decide this once and for all. Again, I urge the [REPRESENTATIVE] or [SENATOR] to VOTE NO on these bills. Thank you."
Please make calls today. Here are the legislators we need to reach:
Sen. Rick Jones 517-373-3447
Rep. John Walsh 517-373-3920
Rep. Kurt Heise 517-373-3816
Rep. Klint Kesto 517-373-1799
Rep. Margaret O'Brien 517-373-1774
The three cases before the Michigan Supreme Court:
Carp – addresses retroactivity for those serving
Eliason – provide a sentencing remedy
Davis – categorical bar on JLWOP for aiding and abetting felony murder (and retroactivity on this issue)
(There is also a federal case — Hill v. Snyder — which is in the 6th U.S. Circuit Court)
Our Status-Quo is Shameful
Michigan's practice of automatically sentencing some juvenile criminals to life sentences without the possibility of parole is shameful: Michigan ranks second in the country for the highest number of individuals serving life without parole sentences for crimes they committed when they were under the age of 18, and most of them are children of color who disproportionately receive harsher sentences than white youth who commit crimes.
We are relieved that last year, the US Supreme Court ruled this sentence constitutionally cruel and unusual.
As we move to reform our JLWOP laws we must apply it retroactively; it's the only way to wipe the stain completely from Michigan's discreditable past, which saw it hand down over 350 juvenile life sentences.
It's the only way to assure equal application of the rule of law.
Juvenile-Lifers Deserve Reconsideration
Every juvenile-lifer should have an opportunity for a hearing to have their sentence reconsidered in light of their circumstances when they committed their crime.
They will still need to meet the standard for release: If they're deemed threats or haven't proved sufficiently rehabilitated, they'll stay in prison.
But, the judge must finally be allowed to consider the unique circumstances of their crime in light of their status as a youth and their childhood environment. Such individual consideration was not allowed in their original mandatory sentence.
The judge must be allowed to consider their growth and maturity, as well as their unique capacity to be rehabilitated.
New Hearings Could Mean A Fresh Start
A new hearing gives these individuals a chance (one the high court says they have been unconstitutionally denied) to show that their crimes were mistakes they've learned from, and to make a case for a shot at a normal, productive life outside of prison.
There is no doubt that children who kill – or serve as an accomplice to crime – must be dealt with and punished, as our justice system demands.
But it is time for Michigan to move away from this less-than-civilized practice of condemning our youth to a life in prison with no opportunity at redemption. We must embrace a culture that nurtures our children and helps them grow in to conscientious and contributing adults.
We must be honest about our racially skewed sentencing practices, and fixing the JLWOP laws by ensuring that all of the currently incarcerated individuals serving that harsh and now unconstitutional sentence have a chance at life is an important step in that direction.
Posted by MCCD on Tuesday, January 28th, 2014 @ 3:35PM
Categories: Juvenile Life Without Parole, Michigan Council on Crime and Delinquency, Youth in Adult System