The Michigan School-Justice Partnership to Host Region Meetings
Issues
Juvenile Justice
Criminal Justice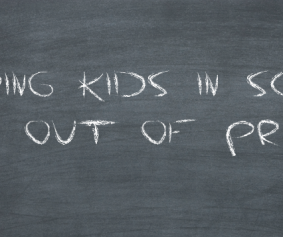 Kids who skip or are ousted from school for bad behavior are at risk of dropping out and entering the "school to prison pipeline." Efforts to find solutions to school truancy – and keep kids from lives of crime are underway.
The National Leadership Summit on School – Justice Partnerships: Keeping Kids in School and Out of Court was convened in New York to promote the development of partnerships among the court system, school administration, law enforcement and the community to keep kids in school and out of the juvenile and criminal justice systems.
The Michigan School-Justice Partnership is inviting guests to attend the Regional Meetings this May and June. They will be sending more information regarding how to register later. Here are a list of dates and times of planned Meetings
Tuesday, May 6, 2014, Ann Arbor, Sheraton Ann Arbor Hotel for the following counties:
Clinton, Eaton, Ingham, Livingston, Oakland, Macomb, Jackson, Washtenaw, Wayne, Hillsdale, Lenawee, and Monroe
Tuesday, May 13, 2014, Gaylord, Treetops for the following counties:
Emmet, Cheboygan, Presque Isle, Charlevoix, Leelanau, Antrim, Otsego, Montcalm, Alpena, Benzie, Grand Traverse, Kalkaska, Crawford, Oscoda, Alcona, Manistee, Wexford, Missaukee, Roscommon, Ogemaw, Iosco
Wednesday, May 21, 2014, Frankenmuth, Bavarian Lodge for the following counties:
Clare, Gladwin, Arenac, Isabella, Midland, Bay, Huron, Sanilac, Tuscola, Saginaw, Gratiot, Shiawassee, Genesee, Lapeer, and St. Clair
Wednesday, May 28, 2014, Marquette, Holiday Inn for the following counties:
Gogebic, Ontonagon, Houghton, Keweenaw, Baraga, Iron, Dickinson, Menominee, Marquette, Alger, Delta, Schoolcraft, Luce, Chippewa, and Mackinac
June, Grand Rapids, but details have yet to be finalized for the following counties:
Mason, Lake, Osceola, Mecosta, Newaygo, Oceana, Muskegon, Ottawa, Kent, Montcalm, Ionia, Allegan, Barry, Calhoun, Kalamazoo, Van Buren, Berrien, Cass, St. Joseph, and Branch
The all-day meetings will provide lunch, plenary speaker sessions, idea and resource sharing among counties, networking, and time with members from the Review Board for feedback, questions, and help with updating or writing plans.
For more information about the initiative, please visit: http://www.school2prison.com
For more information regarding other county team members, please visit: http://www.school2prison.com/county-teams/
For more information regarding Review Board members, please visit: http://www..school2prison.com/leadership/review-board/
Tweet
Follow @JusticeinMI
Posted by MCCD on Wednesday, February 26th, 2014 @ 4:43PM
Categories: School-to-Prison Pipeline